Pimlical, for the Palm OS Platform
or StandAlone use
(Implementations on other Platforms to follow!)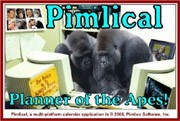 Pimlical for Windows (StandAlone and/or Palm OS® Edition) is intended to be the most advanced calendar application available for the platform and brings a wealth of functionality not present in most desktop calendar programs. Pimlical uses the same databases as the built-in applications and is therefore guaranteed to be 100% compatible with your existing desktop and conduit software and is compatible with all versions of the Palm OS from 3.5 to 5.9+.
---
UPDATE: Pimlical for the Windows Desktop is now available for download!
Click here to get Pimlico's home page with all the information on Pimlical!