Who is CESD?
CESD (C. E. Steuart Dewar) was an early pioneer in the development of multi-terminal publishing systems and was recognized in a 1990 News Inc. Magazine article as one of the four founding fathers of the electronic publishing systems industry. CESD founded Dewar Information Systems Corporation in 1975 to further develop editorial and classified systems for newspapers.
In 1988, Dewar Information Systems was ranked #115 on the Inc-500 list of the fastest growing companies in the U.S. In subsequent years, CESD received the Blue Chip Enterprise Award, the Illinois High Technology Entrepreneur of the Year Award and was elected to the Entrepreneur Hall of Fame. Although CESD developed proprietary systems during the early 1980's, he was one of the first to switch to using standard platforms, software and operating systems. His DewarView product developed in the early 1990's was very popular in many US and European newspapers and was also adopted by USA Today to edit and prepare material for their web site when it was first launched. In 1994, DewarView received the Seybold Award for Excellence in recognition of its pioneering architecture. Dewar's management philosophy was covered in an Inc. Magazine article entitled: Death, Taxes, and. . . Meetings which discussed his enthusiastic endorsement of group-decision making.
In 1995, CESD sold Dewar Information Systems to the Norwegian software company Sysdeco (which subsequently passed it to its spun-off subsidiary, Atex Media Solutions) and retired. He also now admits that he had missed the silent 'ally' in the word 'retired', namely reallytired, as he now spends all his time writing shareware software under the name of Pimlico Software, Inc., where he developed DateBk5 - a leading application for the Palm OS. A light version of DateBk5's predecessor, DateBk3 was licensed to Handspring (now part of PalmOne) as their Datebook+/Calendar application and appeared on millions of Handspring Visors and Treo handhelds. In 2004, DateBk5 won the 2004 PalmSource Award for best Enterprise/Productivity application for the Palm OS.
In 2012, CESD released Pimlical for Android - a new advanced calendar application and within two weeks it was the #1 Top new paid productivity application on Google Play and off to a "good start".


And when he was not writing software he worked on the wildlife foundation The Dewar Wildlife Trust, Inc. located on 186 acres in the North Georgia Mountains near Blue Ridge, Georgia which was the home of DewarWildlife - a state of the art holding facility designed originally for Gorillas - in fact, the only private AZA-certified facility in the world for gorillas.Dewar Wildlife welcomed its first resident, Joe (Kabako), in March of 2003. A You-Tube Video created by a visitor provided a good overview of the facility in 2012. However, Dewar Wildlife never had more than a few gorillas present and after his wife JoBeth passed away in early 2015, the facility was donated to Project Chimps which plans to retire some 220+ chimpanzees from a university research facility - a welcome future for the facility that will finally see it utilized to help a substantial number of primates. In 2016, CESD moved to the Texas Hill Country outside of San Antonio where he continues to write software and pursue his passion for astronomy. He appeared as Lloyd Dallas in the Frederickburg Theatre Company's 2016 production of the British farce Noises Off and hopes to participate more in theatre now that he has more time on his hands.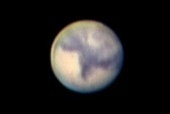 CESD has interests in many scientific areas - but astronomy and astrophotography have always been his favorites. Click here for some of his latest astro-photographs (the February 2009 issue of Sky & Telescope Magazine featured his photo of the Moon in the Pleiades star cluster). That web page also reports near-perfect (109) results from the 2007 Messier Marathon. CESD is a member of the Hill Country Astronomers club in Fredericksburg, TX. He likes delving into quantum theory (and and other issues he knows little about) which resulted in a theory about time in which he suggests that time may be the way in which we experience the progressive collapse of the quantum probability wave for the entire universe.

Recently, CESD finally got a piano again after being without one for several years, so he is back to practicing when time permits. CESD studied with Gavin Williamson in Chicago (a student of Wanda Landowska and Arthur Schnabel) as well as the contemporary composer, Easley Blackwood (a student of Hindemith and Messaien). He's working on several pieces and if you are a true glutton for auditory punishment, here are brief excerpts of 3 pieces he's been working on.... ok, so he needs to practice some more (uhhh.... ok, maybe quite a bit more

).
| | |
| --- | --- |
| CESD appears to be having a private discussion with Willie B. Jr. in 2012. | Although not related, Willie B. Jr. and Jasiri have a great relationship! |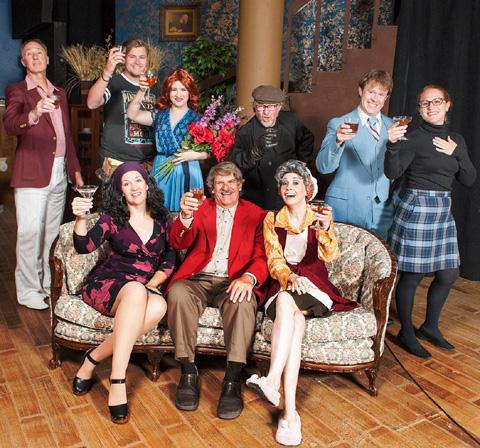 With the Frederickburg Theater Company's cast for Noises Off.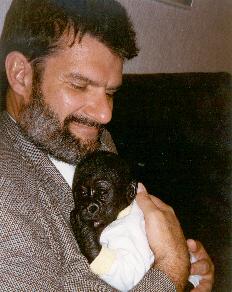 How CESD got hooked on gorillas...

CESD with Bikira at seven weeks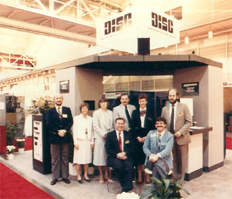 CESD with staff at Trade Show in 1985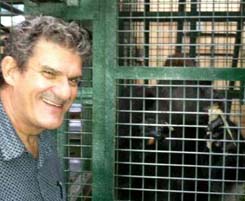 CESD with Joe in 2012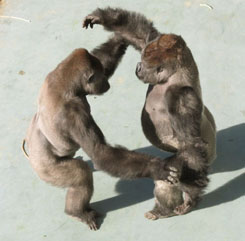 Willie B. Jr. and Jasiri appear to be taking dancing lessons?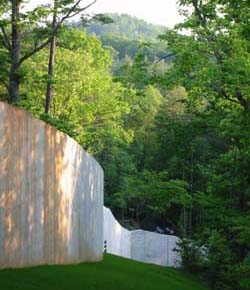 Dewar Wildlife's 15' high wall surrounds some 7 acres in the North Georgia Mountains